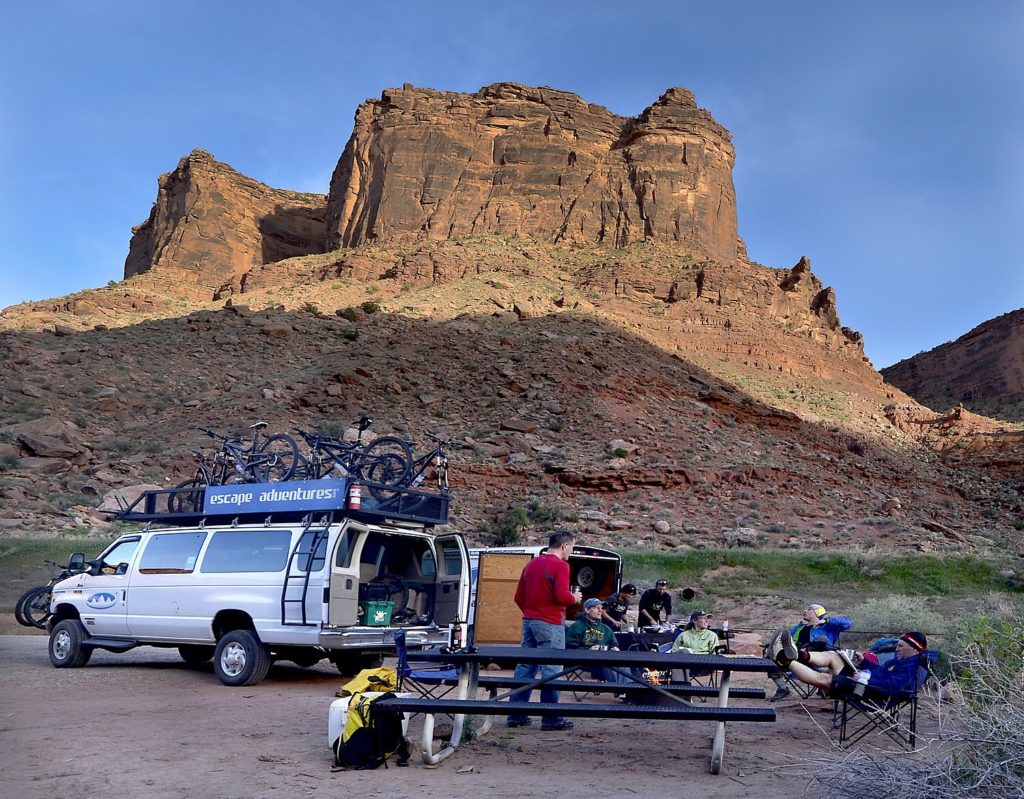 (Las Vegas, NV) — Utah's 100-mile White Rim Trail in Canyonlands National Park, Utah, comes on like a natural rollercoaster, looping in and out of a multi-colored array of spires, arches, buttes, and mesas carved by the Green and Colorado Rivers. A primitive trail framed by blooming cacti below and snow-capped mountains above, the White Rim Trail loops around and below the Island in the Sky mesa top and provides expansive views of the surrounding area. Escape Adventures guests spend most of this 4-day mountain biking and camping tour riding the famous off-road route, while detouring to admire secret passages, hidden slot canyons, natural rock arches, and ancient Puebloan ruins.
"The steep, exposed sections of the Shafer Trail, Lathrop Canyon Road, Murphy Hogback, Hardscrabble Hill, and the Mineral Bottom switchbacks make the White Rim loop a very rewarding and scenic mountain bike ride," said Escape Adventures Director Jared Fisher. "While enjoying the beauty of the nature that surrounds us, we will also appreciate the modern amenities like our custom support truck, gourmet meals, top-of-the-line camping equipment, and attentive guides."
This multi-day odyssey through some of the most gorgeous terrain imaginable loops around the Island in the Sky mesa top within Canyonlands. Riders will definitely want to take plenty of pictures of along the way as they'll pass an array of stop-offs and scenic overlooks, admiring both the Colorado River and the Green River far below. The ride mostly involves casual doubletrack, enjoyable for most people, from novice riders to families. (Check out the video.)
All internal land expenses and services are covered in the cost of this tour. This means from the time Escape Adventures picks you up, all transportation, food preparation, meals (except where noted on itineraries), snacks, non-alcoholic beverages, group supplies and community gear (portable chairs, large awnings, coolers, utensils, etc.) are included.
Backcountry permits, licenses, park fees, reservations, and accommodations are also included, along with at least two professionally trained trip leaders, a mobile first aid and mechanic station, spare bikes, and a support vehicle(s). Trip price does not include airfare, lodging prior to trip start or bicycle rental and/or camping gear (if on a camping tour) unless otherwise noted on itinerary or website.
Day 1-2: Meet in Moab. Ride Schafer Trail to Airport, ride to Murphy's Hogback via White Crack.
Day 3-4: Ride to Potato Bottom with slot canyon side hike. Ride along Green River up Mineral Bottom. Shuttle back to Moab.
The trip, including first-class camping, starts at $999 per person. E-bikes are available upon request. Tours run March-May and September-October. For more info, visit https://escapeadventures.com/tour/utah-white-rim-mountain-bike-tour/ or contact Escape Adventures at 800-596-2953.
Since 1992, Escape Adventures has shaped and lead adventure travel vacations through some of the most awe-inspiring natural destinations in the world. With programs in 100 destinations, Escape Adventures caters to the full spectrum of active traveler, respective to fitness level and activity type – from road cyclist to mountain biker to electric biker, hiker, and multi-sport enthusiast, and from first timer to friends and family groups of all ability levels. https://escapeadventures.com/
For more travel features, visit:
goingplacesnearandfar.wordpress.com
www.huffingtonpost.com/author/karen-rubin
travelwritersmagazine.com/TravelFeaturesSyndicate/
goingplacesfarandnear.tumblr.com/
instagram.com/going_places_far_and_near/
'Like' us on facebook.com/NewsPhotoFeatures
Twitter: @TravelFeatures