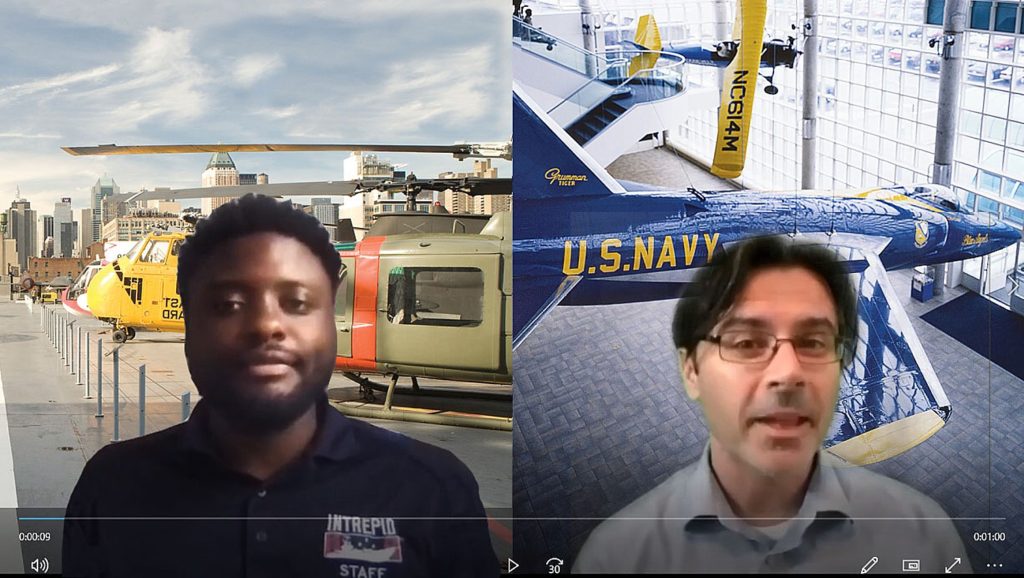 Garden City, NY – On Thursday, June 4th at 2pm, the Intrepid Sea, Air & Space Museum and the Cradle of Aviation Museum and Education Center are hosting a live trivia event for some edutainment and laughter. The topic: aviation. The intention: a little good-natured fun for all ages with a nod to NY heritage and the state's aviation trailblazers coming live from organizations and individuals who are passionate and enthusiastic about their museums, educating audiences, and sharing their stories.
The pandemic has hit cultural institutions hard in the US and around the world. Museums have joined together in mutual support sharing ideas, resources, and messages of inspiration. New York is certainly no stranger to reaching out and lending a hand in a time of need. The live trivia event will be hosted by the Intrepid's Frantz Lucien, Manager of Interactive Experience and Family Engagement and the Cradle's Thomas Barry, Assistant Director of Education
"We hope that we can help preserve our past and inspire the future by honoring our heroes and educating the public through this fun program whose main goals are to provide a positive educational and social experience," Barry said.
The live broadcast will be streamed on The Cradle of Aviation's Facebook page at https://www.facebook.com/CradleofAviation/ and YouTube Channel at https://www.youtube.com/Cradleofaviation
Why the Collaboration?
"Museum education is a small world. Many educators have met each other through their career paths, at conferences, or through special projects. We are always looking for ways to help and support one another as we seek to engage the public. The Cradle of Aviation and Intrepid Sea Air & Space Museum have quite a bit of overlap in their content and by working together, we hope to reach an even larger audience with some great content related to both of our Museums. This content stretches back to the earliest days of flight and goes right up through the present day. Our Museums may be closed, but that doesn't mean our jobs as educators are any different…the only thing that has changed is how we do them," Barry said.
Recent Posts/Teasers About Upcoming Trivia Event https://www.youtube.com/watch?v=qFQg6TKQgT0
How Other Museums Are Working Together
● Between 2-3K museum professionals attending weekly Cuseum webinars on how to engage audiences and stay afloat during pandemic https://cuseum.com/blog-sections
● In March, art museums started #museumbouquet sending messages of gratitude paired with paintings and photos of flower bouquets to share some brightness with the world. https://news.artnet.com/art-world/museums-sending-each-other-bouquets-1815078
● In VA, local museums have organized a virtual scavenger hunt to celebrate local heritage https://rvahub.com/2020/05/21/area-museums-will-join-forces-may-24th-to-offer-socially-distant-digital-scavenger-hunts/
The Intrepid Sea, Air & Space Museum is a nonprofit, educational institution featuring the legendary aircraft carrier Intrepid, the space shuttle Enterprise, the world's fastest jets and a guided missile submarine. Through exhibitions, educational programming and the foremost collection of technologically groundbreaking aircraft and vessels, visitors of all ages and abilities are taken on an interactive journey through history to learn about American innovation and bravery.
The Intrepid Museum fulfills its mission to honor our heroes, educate the public and inspire our youth by connecting them to history through hands-on exploration while bridging the future by inspiring innovation. Connect with the Intrepid on Facebook, Twitter and YouTube, and tour the Museum virtually on Google Arts & Culture.
The Cradle of Aviation Museum & Education Center is home to over 75 planes and spacecraft representing over 100 years of aviation history and Long Island's only Giant Screen Dome Theater. The museum is located on Museum Row, Charles Lindbergh Blvd., in Garden City. Call (516) 572-4111 or visit www.cradleofaviation.org.

For more travel features, visit:
goingplacesnearandfar.wordpress.com
www.huffingtonpost.com/author/karen-rubin
travelwritersmagazine.com/TravelFeaturesSyndicate/
goingplacesfarandnear.tumblr.com/
instagram.com/going_places_far_and_near/
'Like' us on facebook.com/NewsPhotoFeatures
Twitter: @TravelFeatures