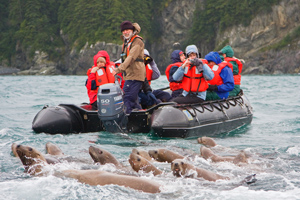 TAHOE CITY, CA– Alaska continues to be one of the world's hottest destinations for small ship cruising. Small ship cruise expert AdventureSmith Explorations has seen the growth firsthand and now recommends that plans need to be secured by early December 2016 to get the best choice of ships, cabins and itineraries for summer 2017.
"Last year the most popular high-season trips were sold out earlier than we had ever experienced. By January more than half of the summer departures were fully booked or had very limited availability," said Todd Smith, founder and director of AdventureSmith Explorations (http://www.adventuresmithexplorations.com/).
This booking strategy should give early birds certain advantages while securing a cabin on a brand-new, 100-passenger expedition ship being introduced to Alaska next summer. This is Lindblad Expeditions' National Geographic Quest, set to launch June 26, 2017, on a Seattle-to-Sitka itinerary exploring the coast of British Columbia and into Alaska's Inside Passage. The nature-intensive 15-day cruise starts at $9,390 per person double.
National Geographic Quest will then spend the summer exploring the coves and fjords between Sitka, Glacier Bay National Park, Juneau and Petersburg on Lindblad's classic Exploring Alaska's Coastal Wilderness route, an eight-day adventure also sailed by the 62-guest National Geographic Sea Lion, with rates starting at $5,890 per person double.
National Geographic Quest will be the most modern and spacious expedition vessel cruising Alaskan waters. The ship features roomy (135 to 185-square feet), outside-facing cabins, 22 with small balconies with floor-to-ceiling sliding doors. Eight cabins can be configured into four adjoining cabins for families. Some cabins can accommodate a third guest. The ship will be outfitted with a fleet of 24 sea kayaks, paddle boards, snorkeling equipment and Zodiacs, all of which are geared to get guests out and into the wild, remote places being explored. Also aboard is state-of-the-art expedition technology, including a remotely operated vehicle (ROV), video microscope, and a hydrophone and bow-cam designed for immediate deployment to hear and film, for instance, humpback whale vocalizations and to view bow-riding dolphins.
Following the Alaska season, the ship will remain in the Pacific Northwest for a series of new voyages between Seattle and Vancouver, with stops in the San Juan Islands, Victoria, Alert Bay and more far-reaching stops in British Columbia's channels and fjords. Beginning in December 2017, National Geographic Quest will reposition and operate voyages in Costa Rica and Panama before kicking off a series of new voyages in Belize and Guatemala starting in February 2018.
With the introduction of National Geographic Quest, National Geographic Sea Bird will fly away to two new itineraries. Wild Alaska Escape is a six-day cruise designed to pair with a land trip that includes river rafting and biking options unique to a cruise program. The action takes place in wild, pristine Alaska for those with limited time but with an unlimited sense of adventure. Included are iconic wildlife, epic landscapes and the ancient Chilkat Tlingit village of Klukwan. In Haines, "Adventure Capital of Alaska," guests have a three-hour bicycling trip around a stunning glacial lake, half-day hikes up a few of the region's most dramatic mountains or, for the most fit, a trek up Mt. Riley. Others may choose to float down the Chilkat River through an area rich with native tradition and sporting the largest congregation of bald eagles in the world. In more remote stretches of the voyage come guided, point-to-point kayak trips with the ship as moving basecamp. Or, in expedition landing craft, guests may zip around sculpted icebergs or land on remote beaches for hikes in dense and dramatic Tongass National Forest. Rates begin at $4,290 per person, double. See: http://www.adventuresmithexplorations.com/wild-alaska-escape-cruise-national-geographic-sea-bird.
Big Picture Alaska, an 11-day program crafted by National Geographic photographers, targets camera buffs. The trip spans the full north-south expanse of Alaska's Inside Passage. The immersive, wide-ranging photo expedition takes Lindblad's wildly popular week-long expedition and expands it, adding in the striking Misty Fiords at the lowest reaches of Alaska's Inside Passage and Haines, in the northernmost corner. It's the perfect mix of small-town life and the grand expanse of the wild landscape that surrounds it. Guests raft though the Chilkat Bald Eagle Preserve, explore Glacier Bay National Park, search for humpback whales with time in a popular feeding area called Clarence Strait, kayak amid glacial ice, hike the Tongass National Forest and learn about the region's rich Tlingit heritage while shooting with the expertise of an industry-leading expedition photography team of Lindblad-National Geographic certified photo instructors and National Geographic photographers. Rates begin at $8,990 per person, double. See: http://www.adventuresmithexplorations.com/big-picture-alaska-cruise-photography-national-geographic.
AdventureSmith Explorations also notes new offerings in Prince William Sound thanks to the 12-guest Dream Catcher. The seven-day Prince William Sound Dream Catcher cruise is from $5,775 per person double. Getting up close and personal with icebergs and sea otters is just the beginning of the fun. There are set departures in addition to possibilities to charter this small ship. See: https://www.adventuresmithexplorations.com/prince-william-sound-dream-catcher.
For information on all of AdventureSmith's small ship cruises worldwide, itineraries, availability and reservations, Phone: 800-728-2875 toll-free or visit http://www.adventuresmithexplorations.com/.
 
For more travel features, visit:
goingplacesnearandfar.wordpress.com
travelwritersmagazine.com/TravelFeaturesSyndicate/
goingplacesfarandnear.tumblr.com/
instagram.com/krubin0830/
'Like' us on facebook.com/NewsPhotoFeatures
Twitter: @TravelFeatures