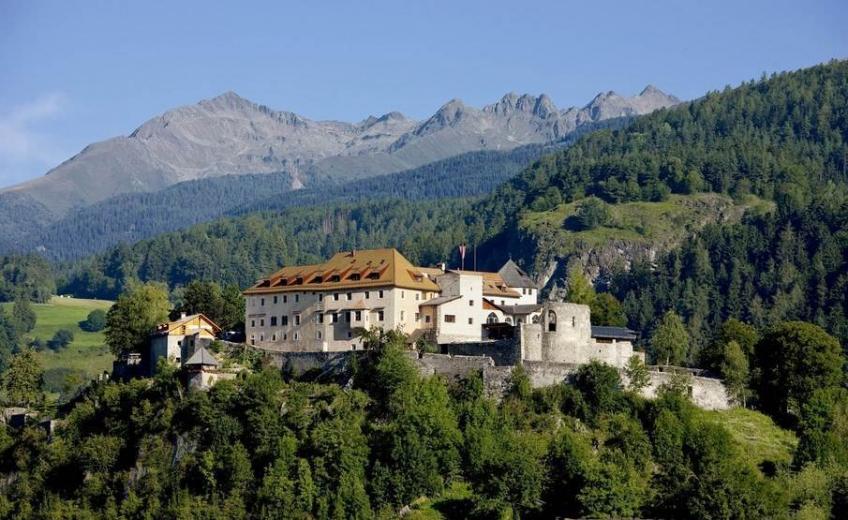 Castles, a convent, elegant country houses and a former tobacco store are  among the 10 luxury hotels named winners of Historic Hotels of Europe awards for 2016.
Guests voted for their favorite hotels in 10 categories, including romance, legend, fine dining, and spa facilities.
Historic Hotels of Europe (HHE) chairman Barbara Avdis said: 'These awards are an opportunity to reward the outstanding effort that the staff at our member hotels put in to ensure their guests are happy.
"It's also a celebration of the commitment our members make to maintain the incredibly rich heritage and stories encapsulated in these buildings – and to recognize their constant striving to provide an excellent service for their guests."
HHE is a not-for-profit umbrella company championing more than 500 of Europe's most historically-significant hotels.
Each member hotel is unique and each is wrapped inextricably into the history of their location – and of Europe beyond. That's why the organization selected ten separate categories for the judging.
"The HHE members are so diverse in location, history and type, so having one common measure would be unfair to all," Barbara Avdis commented.
The winners of the fourth HHE awards were announced in November at a gala dinner at Château de l'Epinay in Saint-Georges-sur-Loire, France.
Winners include Chesa Salis in Bever, Switzerland. Owners Jurg and Sibylla Degiacomi describe their hotel as 'your home in the Engadin', so they were delighted to take home the award for best customer care. Little wonder Chesa Salis is a frequent retreat for celebrities escaping the bustle of nearby St Moritz.
Another winner is Aigialos Hotel, in Santorini, Greece. The 16 renovated neoclassical houses that make up the hotel were originally the homes of the island's noble captain families. Named best historic hotel with a story to tell, the Aigialos charms visitors with its cobbled walkways, overlooking deep blue seas and the island's volcano.
Winner of the most romantic hotel is Vadstena Convent Hotel, in Sweden. The property has a remarkable history: originally a royal palace, in the 1300s it was the scene of lavish parties thrown by King Magnus Eriksson and his wife Blanche. But the place underwent an abrupt change of fortune when it was transformed into a monastery and convent so austere that log fires, even in a Swedish winter, were strictly forbidden. Vadstena has even been a nursing home for wounded soldiers during wartime – but today it's a luxury hotel packed with historic charm.
"Our historic hotels are eclectic and authentic, and we aim to take our guests on a journey of inspiring experiences beyond the expected," Avidis commented
The winners are:
1. Best Castle Historic Hotel 2016
Winner: Castle Hotel Sonnenburg
Country: Italy
Member of: Schlosshotels & Herrenhäuser
2. Best Countryside Historic Hotel 2016
Winner: Hotel See-Villa
Country: Austria
Member of: Schlosshotels & Herrenhäuser
3. Best Customer Care Historic Hotel 2016
Winner: Chesa Salis
Country: Switzerland
Member of: Swiss Historic Hotels
4. Best Historic Hotel Spa Award 2016
Winner: Szidónia Manor House
Country: Hungary
Member of: Hungarian Castle Hotels Association
5. Best City Historic Hotel 2016
Winner: Hotel Elizabeth
Country: Slovakia
Member of: Historic Hotels of Slovakia
6. Best Historic Hotel New Member Award 2016
Winner: Hotel Marpessa
Country: Greece
Member of: Yades Greek Historic Hotels
7. Best Historic Hotel with "A Story to Tell" 2016
Winner: Aigialos Hotel Santorini
Country: Greece
Member of: Yades Greek Historic Hotels
8. Best Adventure and Activities Historic Hotel 2016
Winner: Knutholmen
Country: Norway
Member of: De Historiske
9. Historic Hotel Best Restaurant 2016
Winner: Marlfield House
Country: Ireland
Member of: Ireland's Blue Book
10. Most Romantic Historic Hotel 2016
Winner: Vadstena Convent Hotel
Country: Sweden
Member of: Countryside Hotels Sweden
For more travel features, visit:
www.examiner.com/eclectic-travel-in-national/karen-rubin
www.examiner.com/international-travel-in-national/karen-rubin
goingplacesfarandnear.com
goingplacesnearandfar.wordpress.com
moralcompasstravel.info
travelwritersmagazine.com/TravelFeaturesSyndicate/
'Like' us on facebook.com/NewsPhotoFeatures
Twitter: @TravelFeatures