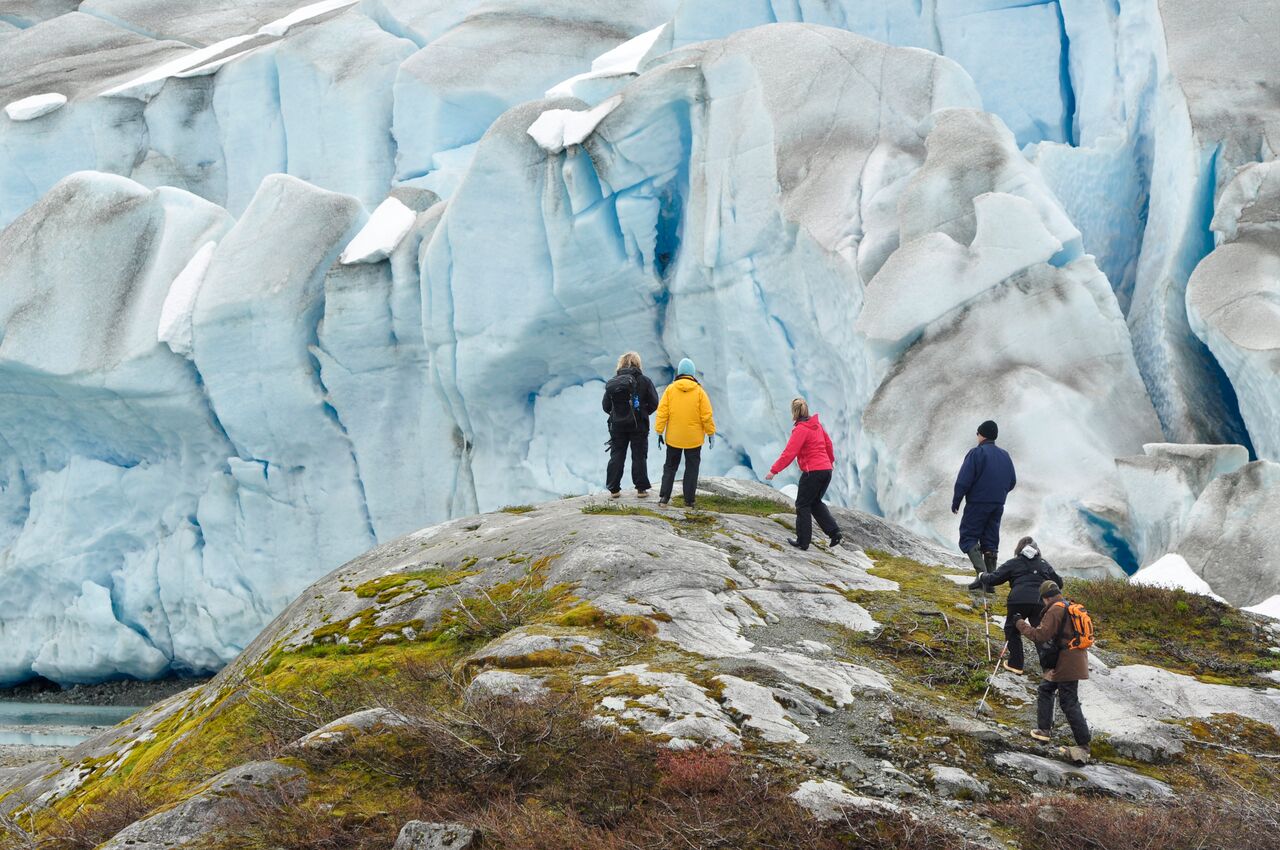 In the spirit of 2016's National Park Centennial Celebration, small ship cruise expert AdventureSmith Explorations is offering a different way to experience our National Parks: cruise a park.
While Alaska has the whale's share of cruises in National Parks, and therefore many choices of ship size and amenities, the San Juan Islands and Oregon's Columbia River are key players as well.
ALASKA
Glacier Bay National Park and Preserve covers over three million acres with open ocean and fjord coastlines spanning most of its perimeter. This means that the small vessels that AdventureSmith Explorations employs access many of the coves and landings around hundreds of miles. Examples of itineraries here are three eight-day programs: Exploring Muir's Wilderness on the 84-guest Safari Endeavor; Northern Passages & Glacier Bay on the 60-guest Wilderness Adventurer, 74-guest Wilderness Explorer or 76-guest Wilderness Discoverer; and Discoverers Glacier Country on the 22-guest Safari Quest, the 36-guest Safari Explorer, the 60-guest Wilderness Adventurer or the 84-guest Safari Endeavour. Itineraries have themed departures the week of Aug. 25, 2016 celebrating the Centennial, with commemoration gifts, guest speakers, evening onboard presentations focused on the history of the National Parks, surprise birthday celebrations and special presentations by Park Rangers on board while in Glacier Bay.
For those that want to see as much of Glacier Bay National Park as possible on a cruise, the six-day Glacier Bay Adventure Cruise is the only Inside Passage small ship cruise that spends most of its itinerary inside the park. The itinerary travels from waterfall-laden Geike Inlet to the barren mountain faces of the East and West arms of Glacier Bay National Park, then routes outside the park to Point Adolphus for whale watching. Hundreds of miles of glacial fjords are here for kayaking, hiking and small ship cruising. The base of exploration is the historic 12-passenger small ship M/V Sea Wolf, owned and operated by Alaskans.
Kenai Fjords National Park, on the edge of the Kenai Peninsula south of Anchorage, covers an area of nearly 670,000 acres, 51 percent of which is ice. A number of lodge-based itineraries allow guests to spend ample time on the water boating through Kenai Fjords. To access most of these remote lodges, guests embark by boat from Seward on a five-hour wildlife and tidewater glacier journey. Kenai Fjords Backcountry Explorer over seven days reveals by raft and boat and on shore the many of the activities and animals on the Native-owned, 1,700-acre Pedersen Lagoon Wildlife Sanctuary. The eight-day Ultimate Alaska Adventure pairs backcountry adventure and wild Alaska by sea kayaking in Kenai Fjords National Park, a helicopter landing onto a glacial snowpack, a floatplane journey to a remote mountain lake and more.
LOWER 48
Olympic National Park, at nearly 1 million acres along Washington's coast, is famed for its diversity of ecosystems and rich cultural history. Olympic Wilderness & San Juan Islands is an eight-day-expedition along this coastline from the comfort of the 60-guest Wilderness Adventurer or the 76-guest Wilderness Discoverer. Kayaks and paddleboards sail aboard, allowing guests to actively explore the park's coves and canals.
Lewis & Clark National Historical Park at Fort Clatsop in Astoria, Oregon, is a hub focusing on the lore of early explorers. Two small ship itineraries visiting here herald the legacy of two great western rivers: the Columbia and the Snake. Columbia & Snake Rivers Journey over seven days embraces culture and history with food and wine bounties of the Pacific Northwest. This trip recently acquired Food Alliance affiliation ensuring that local and sustainable are prominent in in every culinary presentation. Guests will be on board either 62-passenger National Geographic Sea Bird or 62-passenger National Geographic Sea Lion. Over eight days on Legacy of Discovery guests aboard the 88-guest S.S. Legacy that emulates a turn-of-century steamer traverse the nearly 1,000 miles of history on the Columbia River Gorge.
ARRIVE BY TRAIN OR PLANE
Some of AdventureSmith Explorations' itineraries define remote to its core, with guests going beyond the boat, being transported to a National Park by small plane or train. There are fly-to itineraries accessing Katmai National Park including Brown Bears of Katmai, a five-day program recommended as a cruise extension. On Denali Backcountry Explorer guests explore the wilderness from a lodge deep in Denali National Park and Preserve with access that may include a bus or train from Anchorage.
Alaska Coast to Denali is a cruise-a-park highlight, visiting two national parks over seven days via boat and train. The itinerary starts with a small boat cruise into a Kenai Fjords National Park lodge, travels overland to Denali National Park and Preserve and then concludes with a scenic train ride on the Alaska Railroad to Anchorage.
See this blog post for a comprehensive list of 18 ways to "Cruise a Park":
http://www.adventuresmithexplorations.com/cruise-a-park-national-centennial-small-ship. Learn more unique ways to travel our National Parks by following AdventureSmith's #cruiseapark hashtag.
For current cruise specials and early-booking offers worldwide see: http://www.adventuresmithexplorations.com/special-offers. For information on all of AdventureSmith's small ship cruises, itineraries, availability and 2015-2016 reservations, Phone: 800-728-2875 toll-free or visit www.adventuresmithexplorations.com.
Founded in 2003, AdventureSmith Explorations is based in Tahoe City, CA, along the northern shore of Lake Tahoe. A recognized leader in small ship cruising, in 2012 owner Todd Smith joined the ranks of Conde Nast Traveler's prestigious Annual Travel Specialists List as the world's expert on small ship expeditions.
Follow AdventureSmith Explorations:
Facebook:     http://www.facebook.com/AdventureSmithExplorations
Twitter:          https://twitter.com/adventuresmith
Instagram:     https://instagram.com/adventure_smith/
YouTube:       https://www.youtube.com/user/AdventureSmithTravel
Pinterest:       https://www.pinterest.com/adventuresmith/
Google+:        https://plus.google.com/114643934309327657444/about
Website:         http://www.adventuresmithexplorations.com/
For more travel features, visit:
www.examiner.com/eclectic-travel-in-national/karen-rubin
www.examiner.com/international-travel-in-national/karen-rubin
goingplacesfarandnear.com
goingplacesnearandfar.wordpress.com
moralcompasstravel.info
travelwritersmagazine.com/TravelFeaturesSyndicate/
'Like' us on facebook.com/NewsPhotoFeatures
Twitter: @TravelFeatures