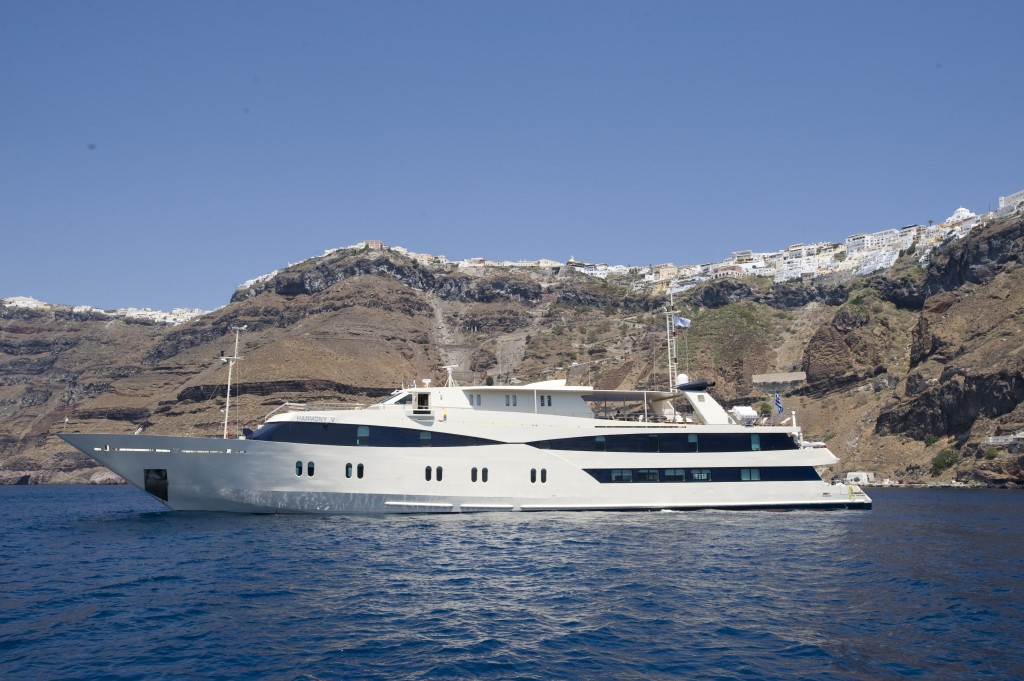 Athens, Greece-based small ship cruise line Variety Cruises is launching five new itineraries in 2015 and 2016, including cruises in the Red Sea, Greece and Turkey, the Canary Islands and in Madagascar and its Mozambique Channel Islands.
Red Sea Cruises will debut in 2016 on the 21-cabin Motor Yacht Harmony G, operating two 6 night / 7 day cruise itineraries in the area: the Kings and Pharaohs Cruise and the Splendours of the Red Sea Cruise, two equally fascinating cruise programs showcasing the treasures of the Red Sea and the cultural diversity of Egypt and Jordan. Variety Cruise's Kings and Pharaohs Cruise from Aqaba, Jordan to Suez, Egypt (or reverse) program includes Luxor, the ancient land of gods and pharaohs and home of the Valley of the Kings, and the Karnak and Luxor temples, Sharm el Sheikh in the Sinai peninsula and home to St. Catherine's Monastery atop Mt. Sinai and pre- and post-cruise tours in Jordan and Cairo, to unravel the amazing cultural diversity of the region.
The Splendours of the Red Sea Cruise from Hurghada to Hurghada, Egypt allows for more time in Aqaba, Jordan with visits of Petra and Wadi Rum, as well as for more swim stops to enjoy the sun and the underwater treasures of the Red Sea (www.varietycruises.com/english/home/cruiseCalendar/Red+Sea/34).
Greece and Turkey: The Aegean Mosaic Cruise is a 7 night/8 day program from Athens to Istanbul (or reverse), with 4 sailings in 2015 and 9 sailings in 2016. Travelers sail on the 36-cabin Mega Yacht Variety Voyager, discovering both mainland port cities and islands throughout eight days. The cruise takes passengers from the exotic city of Istanbul and the fabled ancient cities of Troy, Pergamon and Ephesus to the glitzy Greek islands of Mykonos and Santorini as well as off-the-beaten track islands of Patmos, Samos and Arki, where large cruise ships cannot dock. The cruise offers passengers six optional excursions and three swim stops at the most picturesque locations in the Greek islands (www.varietycruises.com/english/home/cruiseCalendar/Cruises+in+Greece+and+Turkey/32).
The Canary Islands: The Canary Islands Discovery on the 25-cabin Motor Yacht Harmony V is a 7 night/8 day cruise program showing this 10 islands archipelago – a perfect fit for Variety's small ships — with tremendous bio and cultural diversity and close to perfect weather conditions. Guests will sail this new program from December 2015 to March 2016, which is the best period to visit the Canary Islands with temperatures not exceeding 71-74 degrees Farenheit and when winds are at their lowest. Passengers explore Gran Canaria, the main island, with its capital Las Palmas, cosmopolitan Lanzarote, Tenerife and La Palma or Isla Bonita. The simple wild beauty of Fuerteventura and the small and quaint island of La Gomera enchant the senses. Variety Cruises will operate 14 sailings plus an end March repositioning cruise from Las Palmas de Gran Canaria to Malaga, Spain. An Excursions Package including walking tours and excursions is available at additional cost (www.varietycruises.com/english/home/cruiseCalendar/Cruises+in+the+Canary+Islands/36).
Madagascar and its Mozambique Channel Islands:Madagascar and its Mozambique Channel Islands Cruise on the 21-cabin Motor Yacht Pegasus, is a 9 night / 10 day itinerary showing North West Madagascar in a way no land tour or cruise has done so before:  The Madagascar mainland portion of the itinerary includes the magnificent Diego Suarez Bay, the Ankarana Park and Amber Mountain. The itinerary also includes an island hopping portion reaching  the most beautiful islands in the Mozambique channel such as Hara, Mitsio, Komba, Sakatia, Iranji and Nosy Be.  The program can embark from Nosy Be or from Diego Suarez and an Excursions Package is available including walking tours and excursions. There will be a Madagascar Specialist Guide on board to educate passengers on the islands and their histories (www.varietycruises.com/english/home/cruiseCalendar/Madagascar/33).
Variety Cruises, one of the world's largest small ships cruise companies, has been offering passengers worldwide a total yachting experience since 1949. Their fleet of 11 fully-owned vessels varies in size from 4 to 36 cabins. Their yachts and staff provide an intimate and relaxed environment; a comfort filled starting point for the discerning travelers as they visit well known and unique ports of call, including Seychelles, Madagascar, Greece, Turkey, Costa Rica and Panama. Fine locally-flavored cuisine, exciting itineraries and personalized service are just a few of the things that have made Variety Cruises the choice for the ever-growing number of travelers looking for distinctive small ship cruise experiences. Visit www.varietycruises.com.

For more travel features, visit:
www.examiner.com/eclectic-travel-in-national/karen-rubin
www.examiner.com/international-travel-in-national/karen-rubin
travelwritersmagazine.com/TravelFeaturesSyndicate
goingplacesnearandfar.wordpress.com
'Like' us on facebook.com/NewsPhotoFeatures
Twitter: @TravelFeatures
New: Moral Compass: Great Places to Go Where the Going Does Good
moralcompasstravel.info
Check out our newest travel site for special deals, insiders' tips at tidbitts.com: www.tidbitts.com/karen-rubin/where-in-the-world