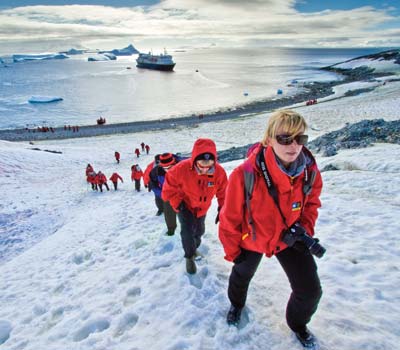 Lindblad Expeditions-National Geographic has announced seven new itineraries for 2015 aboard National Geographic Explorer. The diverse itineraries range from the iconic to the little known, mostly wild, with human history and culture woven in.
The 148-guest National Geographic Explorer is uniquely equipped with an ice-strengthened hull and advanced navigation equipment for polar expeditions; a roster of tools for exploration; and the best expedition team in the industry. With a fleet of Zodiacs and sea kayaks, the ship fosters genuine up-close exploration, enabling guests to have life-enhancing encounters with beauty, wildness, serenity and silence, in the planet's most pristine places.
Azores to Morocco: Island Wonders and Fabled Shores, 10 days/8 nights. Experience a rare visit to remote islands with a deep-seated history, seafaring traditions, and ancestral cultures of food, wine and music. Walk in Madeira's lush laurel forests (a UNESCO site); explore the Azores' spectacular geology: an active volcano and hot springs. Search for whales in the waters around the Azores, and explore two extraordinary Moroccan towns: Casablanca and Essaouira (a UNESCO site). Departs March 27, 2015. Rates begin at $8,790. http://www.expeditions.com/destinations/azores/azores-morocco/
Morocco, Spain and Portugal: Land of the Moors, 10 days/8 nights.  This extraordinary adventure encompasses two continents and three countries, spans centuries and cuts huge swaths through culture. Make a pilgrimage to magnificent Santiago de Compostela—one of the five UNESCO World Heritage sites to be visited; discover Morocco's ancient medinas and bargain in the souks; savor regional cuisines: port wines in Oporto, Spanish tapas and Moroccan tajines. Departs April 4, 2015. Rates begin at $8,790. http://www.expeditions.com/destinations/morocco-spain-portugal/morocco-iberia/
Along the Viking Trail: Iceland to Greenland, 12 days/10 nights.  Explore Iceland's western fjords by Zodiac; kayak among the magnificent icebergs of East Greenland; and hike amid charming Scandinavian hamlets. Immerse yourself in Nordic history on visits to fascinating Viking sites and settlements. Departs July 19, 2015. Rates begin at $10,580. Book by Dec 31, 2014 to receive complimentary charter airfare (Kangerlussuaq to Ottawa–a $1,200 value). New bookings only, subject to availability. http://www.expeditions.com/destinations/arctic/along-the-viking-trail/
Exploring Greenland & the Canadian High Arctic, 13 days/12 nights. Venture deep into the far reaches of the Arctic – trace the rugged fjords of Greenland and explore the entrance to Canada's legendary Northwest Passage. Spot polar bears on the pack ice, watch for a wide variety of whales—from minke and bowhead whales to the rare narwhal. Get up close to massive glaciers, and hike the wild islands that dot Canada's northern shores. Departs July 28; August 7, 2015. Rates begin at $12,990. http://www.expeditions.com/destinations/arctic/greenland-canadian-high-arctic/
Coastal Treasures from the Panama Canal to Peru, 14 days/12 nights. This multifaceted voyage begins with a transit of the Panama Canal, then on to seldom-visited places along the Pacific coast of Panama, Colombia, Ecuador, and Peru. Discover an exciting sequence of off-the-beaten-track islands, and explore protected sites on the Pacific side of Colombia in the company of Colombia's former president, Cesar Gaviria. See the ruins of the ancient Moche culture and encounter the traditional Embera people. Departs September 27, 2015. Rates begin at $12,590. Book by Dec. 31, 2014 and receive complimentary round-trip airfare between Miami/Panama City and Lima/Miami. Subject to availability, new bookings only. http://www.expeditions.com/destinations/south-american-west-coast/coastal_treasures_from_the_panama_canal_to_peru/
Peru & Chile: Ancient Sites & Natural Wonders, 17 days/15 nights. This adventure is filled with breathtaking archaeological and natural wonders and charged with amazing energy: the Nazca Lines, the wildlife-rich Juan Fernández Islands, said to have inspired the novel Robinson Crusoe, and two days exploring the extraordinary Atacama Desert and the Valley of the Moon, with its jagged mountains and wind-created salt sculptures. Near Paracas, Peru, see the seabird and marine mammal colonies of the Ballestas Islands. Departs Oct. 8, 2015. Rates begin at $17,690. http://www.expeditions.com/destinations/south-american-west-coast/peru-chile-natural-wonders/
Patagonia, The Chilean Fjords and Argentina's Staten Island, 21 days/18 nights. Venture deep into Chile's glorious fjords past incandescent icebergs and massive glaciers. From the "land of fire," Tierra del Fuego, to the jagged spires of Torres del Paine National Park, experience Patagonia at close range.  By special permission, be one of the few people ever to explore Isla de los Estados (Staten Island), located at the extreme end of South America. Transit the legendary Beagle Channel and take in the view of Cape Horn. Departs October 21, 2015. Rates begin at $18,880. http://www.expeditions.com/destinations/south-american-west-coast/patagonia_chile/
(Rates are per person based on double occupancy in a category 1 cabin.)
For reservations or additional information on Lindblad Expeditions-National Geographic voyages, visit www.expeditions.com, call 1-800-EXPEDITION (1-800-397-3348) or contact your travel agent.
For more travel features, visit:
www.examiner.com/eclectic-travel-in-national/karen-rubin
www.examiner.com/international-travel-in-national/karen-rubin
travelwritersmagazine.com/TravelFeaturesSyndicate
goingplacesnearandfar.wordpress.com
'Like' us on facebook.com/NewsPhotoFeatures
Twitter: @TravelFeatures
New: Moral Compass: Great Places to Go Where the Going Does Good
moralcompasstravel.info
Check out our newest travel site for special deals, insiders' tips at tidbitts.com: www.tidbitts.com/karen-rubin/where-in-the-world