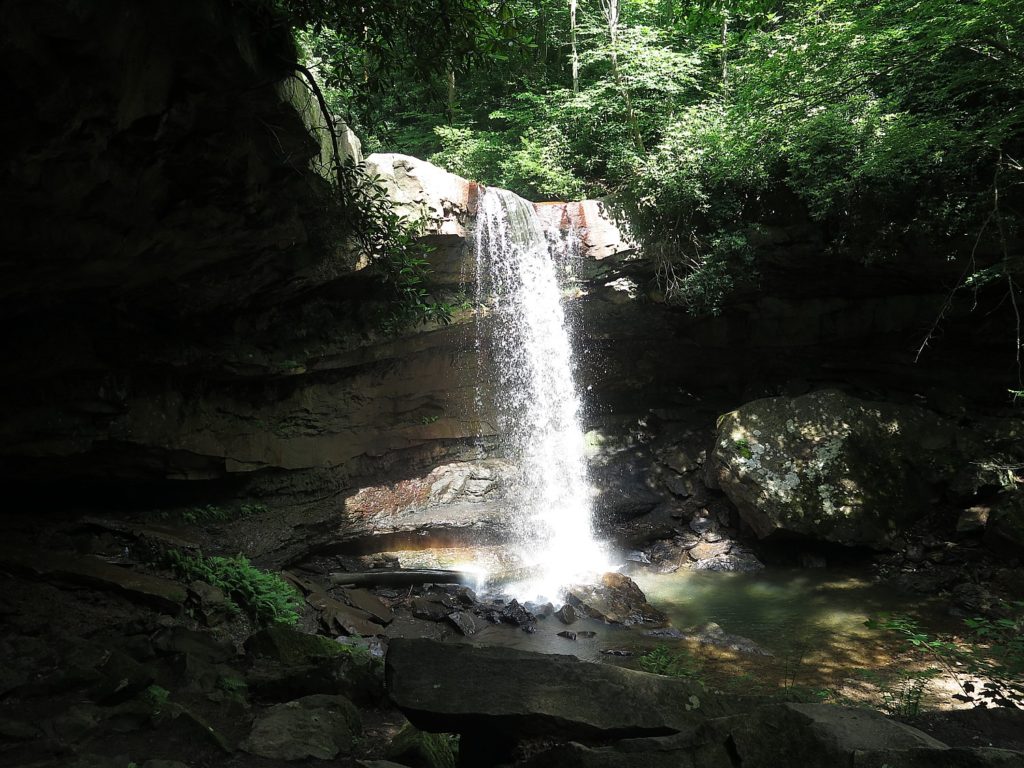 If you can't get out of your house right now, Wilderness Voyageurs has the solution for your cabin fever! Join Colleen from Wilderness Voyageurs Headquarters for a virtual tour of Ohiopyle and the Great Allegheny Passage by bike.  You'll explore all the iconic spots in Ohiopyle State Park, ride on the GAP, a rail trail system that links Maryland and Pennsylvania, and check out some spring blooms.  You can also join her on Facebook or Instagram for a live painting of Cucumber Falls, a favorite Ohiopyle landmark, on April 24 at 4PM EST. Then send in a photo of your finished masterpiece and it will be posted on Instagram for the world to admire!
Wilderness Voyageurs has also partnered up with Mountain Khakis to say an extra special thank you!  Now through April 20, every person who purchases a Wilderness Voyageurs gift card will be automatically entered to win a $100 Mountain Khakis gift card.  Mountain Khakis is a small business with only 20 full-time office employees so they understand the importance of shopping small and local and they want to support their retailers.(Your chances of winning are looking good!)
The winner for the drawing will be randomly chosen at the end of the promotional period (April 20).

"We feel honored during these uncertain times to have such supportive customers and to work with brands that support small business, environmental stewardship, and a quality product," writes Eric Martin, Wilderness Voyageurs owner.
Support Small Business with Online Shopping – "During this difficult time we are offering 20% OFF site wide and free shipping on orders over $30! Even though our brick and mortar store is temporarily closed, you can still gear up for those future adventures in our online shop. Your support means the world to our small, family owned business."
LIVE Painting of Cucumber Falls: 4/24
Savage River Releases: 7/5, 9/26
Stonycreek Rafting: 6/30, 7/14, 8/25
Colorful Colorado Bike Tour: 9/20
Georgia Gold Coast Bike Tour: 10/6, 10/12, 10/18
Kentucky Bike and Bourbon: 10/5, 10/12, 10/18
Maryland's Chesapeake Bay Bike Tour: 10/6, 10/11, 10/18
Wilderness Voyageurs started out as a rafting adventures company 50 years ago, but has developed into a wide-ranging outdoors company with an extensive catalog of biking, rafting, fishing and outdoor adventures throughout the US and even Cuba, many guided and self-guided bike itineraries built around rail trails like the Eric Canal in New York, Great Allegheny Passage in Pennsylvania, and Katy Trail in Missouri.
Wilderness Voyageurs, 103 Garrett St., Ohiopyle, PA 15470, 800-272-4141, [email protected], Wilderness-Voyageurs.com
See our series on the Rails-to-Trails Conservancy Sojourn on the Great Allegheny Passage, operated by Wilderness Voyageurs and our series on Wilderness Voyageurs six-day "Badlands and Mickelson Trail" bike tour of South Dakota at www.goingplacesfarandnear.com.
For more travel features, visit:
goingplacesnearandfar.wordpress.com
www.huffingtonpost.com/author/karen-rubin
travelwritersmagazine.com/TravelFeaturesSyndicate/
goingplacesfarandnear.tumblr.com/
instagram.com/going_places_far_and_near/
'Like' us on facebook.com/NewsPhotoFeatures
Twitter: @TravelFeatures