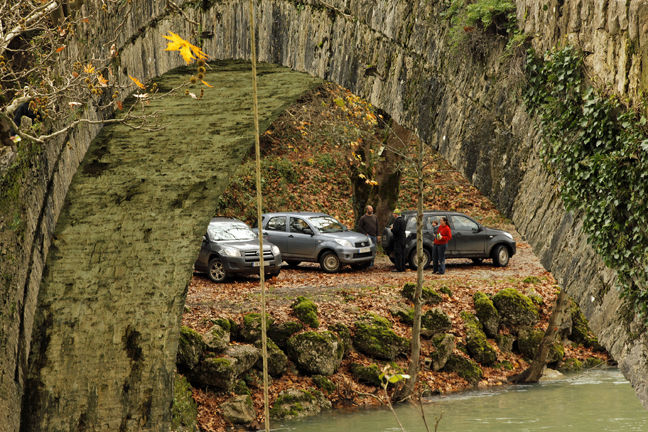 Beit Zayit, Israel – An innovative Israeli adventure travel company recently launched its website in English to share with North American travelers the fun of self-driving 4×4 off-road vehicles to obscure-but-culturally intense locales on the continents of Europe, Asia and Africa.
This includes a new Tripology itinerary that mesmerizes its guests on a journey from the bustle of Athens into a myth-laden landscape along the Heraklion Ridge overlooking the Gulf of Corinth enroute to Delphi, a UNESCO World Heritage Site believed by the god Zeus to have been the center of the world.  Here in upper central Greece comes a tumult of high-altitude lakes, churches that appear to dangle over cliffs, isolated villages, swimming in the Krikloptomus River, flour mills and ancient taverns, and always the excitement of meeting people at home in their ancient and seldom-visited communities.
The tour price for the nine-day/eight-night self-drive itinerary April 26-May 4, 2015 to little-known regions of Greece (beginning and ending in Athens) is $2,315 per person double ($495 single supplement). The rates are based on two guests sharing a room, breakfasts, lunches and/or dinners (exclusive of beverages), off-road vehicles (at Suzuki Grand Vitara category) for every four travelers, gasoline for the entire trip, a Tripology Adventures guide in an accompanying, supervising vehicle for the entire off-road tour, two-way radio with approved frequencies, sightseeing fees, mineral water, destination maps and tips for service providers enroute.
"Our 'deep' touring programs reach exotic destinations where guests have rare opportunities to touch authenticity, to feel the magical genesis as if we were the first to ever arrive in this pristine place," said Ofir Birenbaum, TripologyCEO.
Comfortable, fully equipped, off-road, four-passenger vehicles bring guests through seldom-visited locales while listening enroute via two-way radio to information about their journey. The vehicles are appointed with gourmet coffee and kitchen kits for picnic-style dining.
"We design our trips to be convenient and comfortable, with an itinerary, that leaves room to breathe, to visit preferred sites, villages, lakes, rivers, peaks, canyons – or to just be!" said Birenbaum. "We will reach incredibly beautiful and wild locations – places that tourists never know – in comfortable off-road vehicles, on spectacular 4X4 roads. We plan to cross rivers, attempt passes over 2000 meters high, and reach roads in which the scenery will cause us to stop for yet another incredible vista or maybe just to enjoy a deep, cleansing breath."

For more information on From Athens to the Pindus trip see: http://www.tripologyadventures.com/GR-AP04/26/15.

Tripology Adventures, with a 20-year track record of successful adventure touring, conducts guided, caravan-style, off-road holidays including lodging, dining, sightseeing, trekking, river rafting and more for independent-minded guests who self-drive themselves through a destination on a proscribed itinerary.
On Tripology Adventures' tours guests can, for example, cross the Pindos peaks in Greece, reach the Himba tribes in Namibia and cross the dunes in the Moroccan Sahara. Itineraries are available in Greece,Morocco, Turkey, Italy, Pyrenees, Iceland and Namibia.
For trip details, itineraries and booking information visit: http://www.tripologyadventures.com/; email: [email protected]; or call (US Office) 888-975-7080.
For more travel features, visit:
www.examiner.com/eclectic-travel-in-national/karen-rubin
www.examiner.com/international-travel-in-national/karen-rubin
travelwritersmagazine.com/TravelFeaturesSyndicate
goingplacesnearandfar.wordpress.com
'Like' us on facebook.com/NewsPhotoFeatures
Twitter: @TravelFeatures
New: Moral Compass: Great Places to Go Where the Going Does Good
moralcompasstravel.info
Check out our newest travel site for special deals, insiders' tips at tidbitts.com: www.tidbitts.com/karen-rubin/where-in-the-world