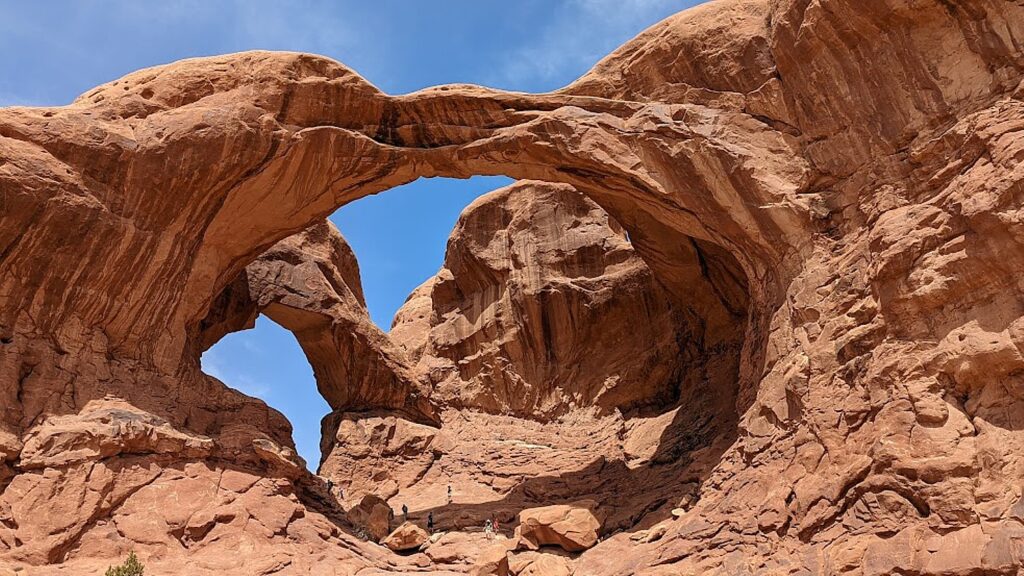 Moab Adventure Center in the red rock playground of Moab, Utah, is prepared to guide its clients through the National Park Service's (NPS) second consecutive season of requiring advance permits to access Arches National Park.
"If you snooze you may lose," underscores Sierra Schmutz, General Manager of the Moab Adventure Center. "However, people who are unable to get permits in a timely fashion can still count on our popular, daily guide-led programs that offer entry to Arches on a space available basis."

Moab Adventure Center's tours showcase the more accessible of more than 2,000 arches, the highest concentration of arches on the planet. Driving and hiking through this Jurassic-aged wonderland provides a glimpse back in time when gentle geologic forces from deep below the surface bulged upward to crack the surface sandstone into fins that over time morphed into arches.

Two of Moab Adventure Center's most popular tours are morning and sunset adventures led by professional guides who share information and wisdom about their experiences in this magical landscape. Each trip is 4 hours. Rates include snacks, water and Park entrance fees. Guests relax in a bus or a Sprinter Van with high ceilings and large picture windows for maximum viewing comfort. There are several stops to get up close with the terrain on short, scenic hikes. The rate is $108 for adults and $88 for ages 5 to 18.

Also available is a 30-minute airplane tour at $159 for adults and $120 ages 3-12. Rivers, canyons, and arches, plus the vast sweep of this slice of America's west are revealed to guests from a bird's eye perspective who are always welcome to share their questions with the pilot.

See details on Arches National Park Tours.

What began as a trial run policy in 2022 to upgrade the visitor experience by eliminating overcrowding will now take effect as an NPS standard operating procedure. This means that from April 1 to Oct. 1, 2023, visitors will need to secure in advance a timed entry reservation in order to enter Arches National Park between 7 a.m. and 4 p.m. The window for booking reservations opened January 10, 2023. Reservations are accepted on a first-come, first-served basis on Recreation.gov.

Reservations must be secured three months in advance of the anticipated date of visiting Arches. A single booking of a timed entry ticket covers each registered visitor (an individual, couple, group or family). Guests may enjoy the park all day, entering and re-entering at will with the validated ticket. The only cost visitors incur is a $2 Recreation.gov processing fee to obtain the ticket as well as paying the standard park entry fee. (It may also be possible to obtain a limited number of tickets through Recreation.gov up to midnight the day before planning to visit the park.) See more information on Arches National Park reservations and timed-entry tickets.

The timed entry program does not apply to tour operators such as Moab Adventure Center who have concessions contracts. If tourists miss getting a reservation or something unexpected comes up, Moab Adventure Center can always get them into the park as long as there's a scheduled tour operating and there is space. For details see https://www.moabadventurecenter.com/arches-national-park-tours and https://www.moabadventurecenter.com/arches-national-park

Moab Adventure Center (www.moabadventurecenter.com) is a division of Western River Expeditions (http://www.westernriver.com/) an adventure travel company headquartered in Salt Lake City, Utah with operations and offices in Moab and Fredonia, AZ. The company is the largest single tour provider in Moab, Utah. The Moab Adventure Center is located at 225 South Main St., Moab, UT 84532.
For information and reservations call (435) 259-7019 or (866) 904-1163. The center also has a 2,000-square-foot retail space selling adventure related gear, clothing, maps and souvenirs.
See also: UTAH ADVENTURE DAY 8: ARCHES NATIONAL PARK, A GEOLOGIC WONDERLAND
For more travel features, visit:
Going Places @ theisland360.com
goingplacesnearandfar.wordpress.com
www.huffingtonpost.com/author/karen-rubin
travelwritersmagazine.com/TravelFeaturesSyndicate/
goingplacesfarandnear.tumblr.com/
instagram.com/going_places_far_and_near/
instagram.com/bigbackpacktraveler/
'Like' us on facebook.com/KarenBRubin
Twitter: @TravelFeatures