First Trail in U.S. Designed Specifically for Autism Spectrum Disorder Communities and Families
Project Supported By More Than $3.3 Million in Private Funds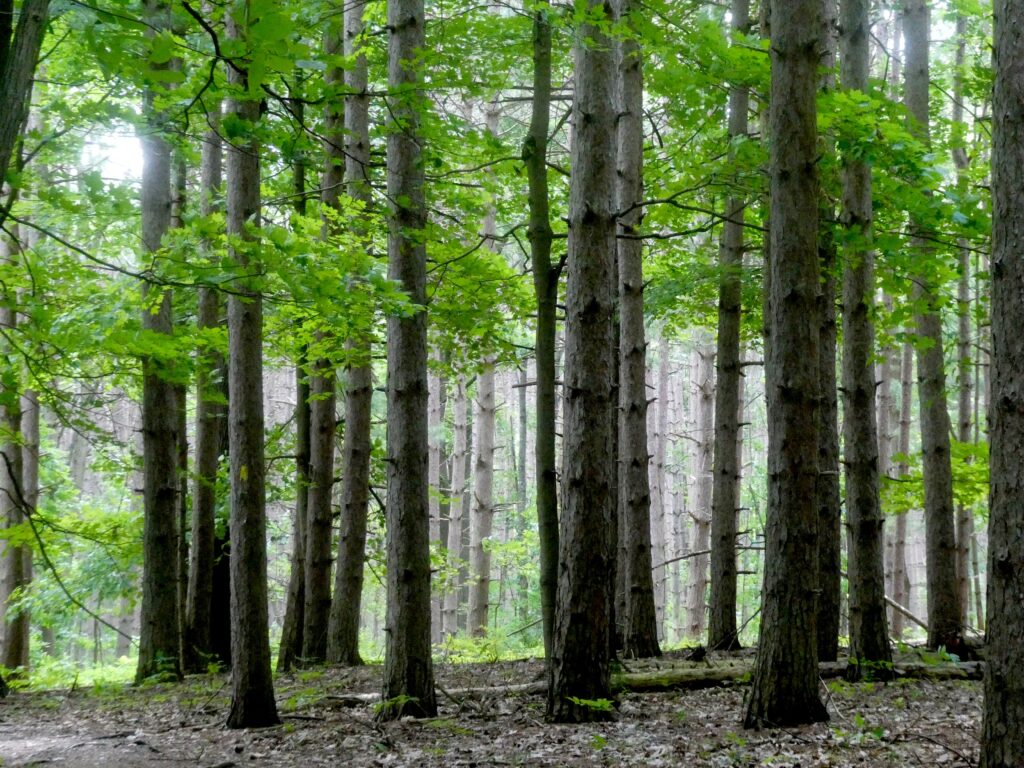 The nation's first nature trail specifically designed to address the sensory needs of those with autism spectrum disorder and other developmental disabilities is open at Letchworth State Park in western New York State. Supported by more than $3.3 million in private fundraising, the new Autism Nature Trail is a one-mile hiking loop that includes eight marked sensory stations, each designed to address a different sensory experience in a safe and supportive environment.
"New York State is leading the nation in creating this public trail purposefully designed to bring the benefits of the outdoors to those on the autism disorder spectrum and their families," Governor Kathy Hochul said. "State Parks should be accessible to everyone, and this is a welcoming and inclusive place for an underserved community."
Activities along the Autism Nature Trail support and encourage sensory perception and integration, while also providing enjoyable activities for visitors of all abilities and ages. The stations engage each visitor's senses, using nature and natural materials as the tools for skill-building. The trail is set up to allow for safe social distancing and planned interaction.
Sensory stations and other features of Autism Nature Trail include:
Sensory Station, where a collection of leaves, moss, fossils, animal fur, acorns and other objects are to be touched, handled, and even smelled;
Sunshine Slope, a gentle maze in an opening that includes a viewing platform, three cuddle swings, and an "Alone Zone;"
Music Circle, where a variety of nature-inspired musical instruments encourage creativity, either alone or with others;
Curiosity Corner, an open space with a gliding seat, ant-shaped boulders, and access to a shortcut back to the beginning of the trail;
Reflection Knoll, a quiet point halfway on the trail under a canopy of trees, with etchings of woodland creatures hidden in the boulders;
Meadow Run and Climb, a place with paths to run, jump and balance along serpentine berms and an obstacle course;
Design Zone, where visitors can manipulate materials from along the trail into patterns and structures;
Playful Path, a place of twisting paths with different surfaces including coarse gravel, log rounds, and sand;
The Nook, an area of carefully spaced seating set under a natural canopy;
The Celebration Station, as the final stop on the trail, this area has a place for visitors to express themselves through writing and drawing about their experiences on the trail.
Located near the park's Humphrey Nature Center with parking, restrooms and Wi-Fi, the ADA-compliant trail was designed with input from Dr. Temple Grandin, a cattle industry expert who was diagnosed with autism in 1950 at the age of two and is now one of the world's most well-known advocates for the autistic community.
Support and programming for the trail comes from the nearby Perry Central School District in Wyoming County and Rochester's Camp Puzzle Peace, an Adirondack summer camp for families living with developmental disabilities. Fundraising for the trail is being managed on behalf of State Parks by the Natural Heritage Trust. The trust is a not-for-profit charitable corporation that receives and administers gifts, grants, and contributions to support public programs for parks, recreation, cultural, land and water conservation and historic preservation purposes.
Last month, Autism Nature Trail supporters marked the sudden loss of one of the project's most devoted early advocates, ANT co-founder Susan Herrnstein. Her family has requested that any donations in her memory be made to the Autism Nature Trail through the Natural Heritage Trust.
Fundraising will continue to support visitor programming for the Autism Nature Trail. So far, more than 650 separate donations have been made to the project, reflecting more than 430 individual donors, 50 corporate donors, 25 community groups, and 15 foundations.
State Parks Commissioner Erik Kulleseid said, "The public-private partnership that envisioned and accomplished this innovative project shows what the power of collaboration and commitment can achieve. State Parks values our dedicated staff and partners who have put in countless hours and is grateful for the generous financial support provided by so many donors."
"Our hope is that the Autism Nature Trail will become an exemplar, widely replicated, taking from what we learned in the seven-year process of creating a first-of-its-kind experience in nature," Loren Penman, an Autism Nature Trail co-founder and member of the Genesee Regional Park Commission, said. "While others retrofit public places to make them accessible, we have created an accessible place and made it public–and that has made all the difference."
Gail Servanti, an Autism Nature Trail co-founder and member of the Genesee Regional Park Commission, said, "This is our dream come true and I eagerly await the positive impact a walk on the Autism Nature Trail will have on individuals and families of all abilities."
"Camp Puzzle Peace was founded out of a desire to share a love of nature and to allow all families to experience the joy of the outdoors in a meaningful way," Camp Puzzle Peace Executive Director Jen Hackett said. "We are very proud to partner with New York State to expand our purpose by providing programming on the Autism Nature Trail for all families, regardless of ability or diagnosis."
Perry School District Superintendent Daryl McLaughlin said, "The eyes of the world are on this project. Everything we are doing has never been done before. This project represents what is possible when individuals, groups, and municipalities engage with one another to advance a cause. The Autism Nature Trail will be a powerful instructional space where cutting-edge learning and teaching will occur for all individuals. This project also will be a paradigm shift for economic development."
About 1 in 54 children in the U.S. have been identified with autism spectrum disorder (ASD), according to estimates from the Centers for Disease Control and Prevention. ASD is reported to occur in all racial, ethnic, and socioeconomic groups and often has a tremendous impact on parents, siblings, and members of the extended family.
Statistics show that young people with autism spend disproportionate amounts of time indoors, often finding comfort in digital activities which results in social isolation. This disconnectedness not only affects individuals with ASD but also can affect caregivers and entire families, who can sometimes feel uncomfortable in outside settings.
For more information on the Autism Nature Trail, visit: https://autismnaturetrail.com/.
Visited by nearly one million people annually, Letchworth State Park covers more than 14,000 acres and is one of the most scenically magnificent areas in the eastern U.S. In 2015, readers of USA Today voted it the best state park in the United States. Surrounded by lush forests, the Genesee River roars through the gorge over three major waterfalls between cliffs as high as 600 feet in some places. The park features 66 miles of hiking trails, as well as trails for horseback riding, biking, snowmobiling, and cross-country skiing. Letchworth offers nature, history and performing arts programs, as well as guided walks, tours, a summer lecture series, whitewater rafting, kayaking, a pool for swimming and hot air ballooning.
New York State Office of Parks, Recreation and Historic Preservation oversees more than 250 individual parks, historic sites, recreational trails, and boat launches, which were visited by a record 78 million people in 2020. A recent university study found that spending by State Parks and its visitors supports $5 billion in output and sales, 54,000 private-sector jobs and more than $2.8 billion in additional state GDP. For more information on any of these recreation areas, visit www.parks.ny.gov, download the free NY State Parks Explorer mobile app or call 518.474.0456. Also, connect with us on Facebook, Instagram and Twitter.
See: DRIVEABLE ADVENTURES: HIKING/CAMPING IN THE 'GRAND CANYON OF THE EAST' – NY'S LETCHWORTH STATE PARK
For more travel features, visit:
goingplacesnearandfar.wordpress.com
www.huffingtonpost.com/author/karen-rubin
travelwritersmagazine.com/TravelFeaturesSyndicate/
goingplacesfarandnear.tumblr.com/
instagram.com/going_places_far_and_near/
'Like' us on facebook.com/NewsPhotoFeaturesTwitter: @TravelFeatures