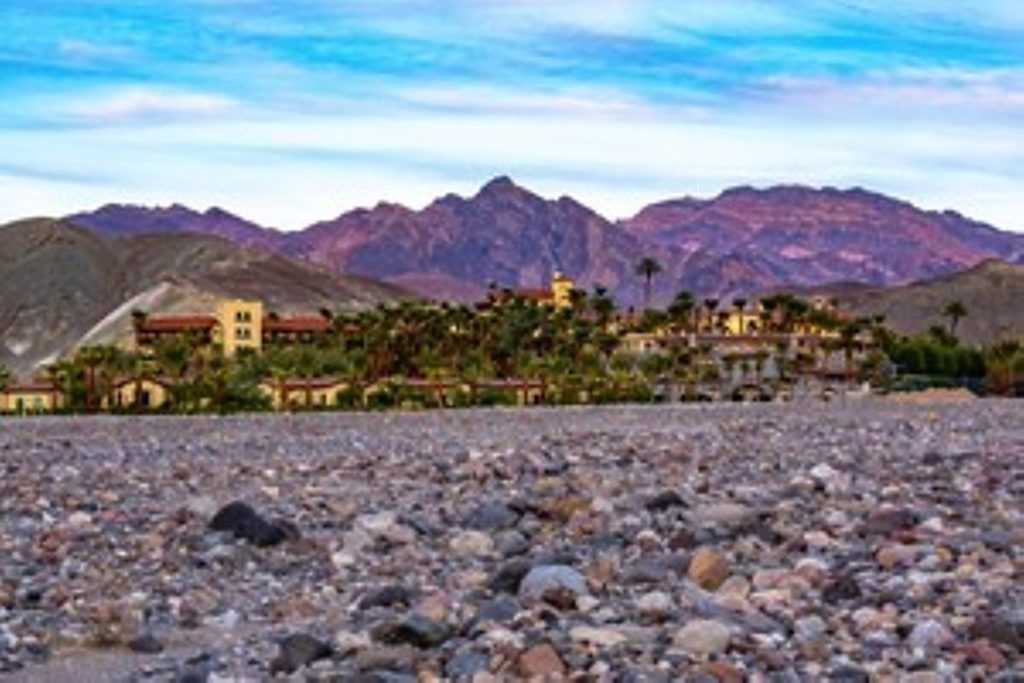 DEATH VALLEY, Calif. – For those looking for sun, heat, stunning natural beauty both day and night and lots of space, the most unique resort destination in the US may well be The Oasis at Death Valley.  61 miles from the nearest town (with nothing in between), and an official population of 320 people, Death Valley is located in Inyo County, Calif. one of the least populated counties in the state with about 1.8 people per square mile.  If you need more space just ponder that this historic resort, ranch and golf course sits in Death Valley National Park, the largest national park in the Lower 48 States on more than 3.4 million acres (about 710 acres per staff and guest).  Social distancing, for that matter civilization distancing, is one of its main features.

The Oasis at Death Valley is just that, where ancient waters bubble up to the surface to create a real American oasis with gardens, date palm trees, bubbling brooks, nature fed outdoor swimming pools, and even an 18-hole USGA golf course – the lowest golf course on the planet.  Death Valley is known for its stunning beauty and exceptionally dark skies where the Milky Way can be seen with the naked eye.  Besides hiking and sightseeing, outdoor enthusiasts will also find tennis, cycling, horseback riding (seasonal) and jeep tours (seasonal).

Down at The Ranch at Death Valley, all guest rooms open directly to the outdoors (no hallways, elevators or large public spaces) and guest park directly in front of their accommodations.  The spacious lawns, massive pool and abundant open green space is an ideal environment to relax and escape the rushing, crowded world.

The The Ranch at Death Valley will awaken to guests on June 18 and while initial offerings may be somewhat limited, there is plenty to keep guests engaged and entertained.   This is where Clark Gable would escape Hollywood, as did Ronald Reagan and numerous movies were in part filmed, including Star Wars.

Please check the website for the most up-to-date information and news, as well as, explore The Ranch's 10-20-30 Deal where the longer you stay, the more you save:
Stay one night, receive a 10% discount with promo code STAY1.
Stay two nights, receive a 20% discount with promo code STAY2.
Stay three nights, receive a 30% discount with promo code STAY3.
For additional information and updates on The Inn at Death Valley's October reopening, visit oasisatdeathvalley.com.


For more travel features, visit:
goingplacesnearandfar.wordpress.com
www.huffingtonpost.com/author/karen-rubin
travelwritersmagazine.com/TravelFeaturesSyndicate/
goingplacesfarandnear.tumblr.com/
instagram.com/going_places_far_and_near/
'Like' us on facebook.com/NewsPhotoFeatures
Twitter: @TravelFeatures