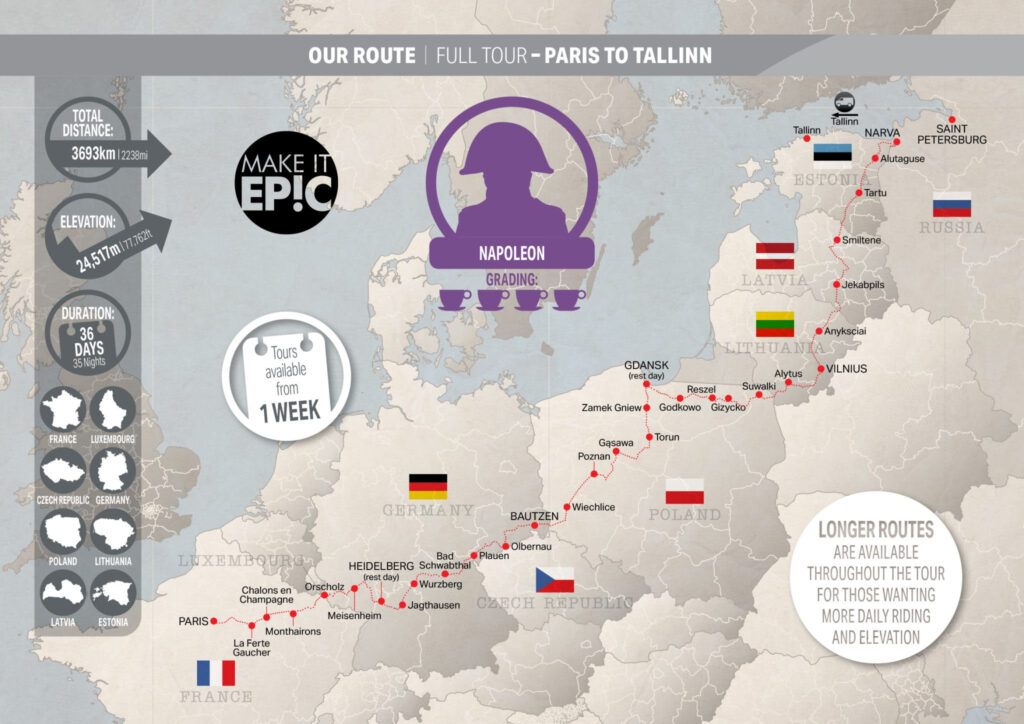 (Provence, France) — Ride & Seek Adventures, the adventure travel company known for its Hannibal Expedition cycling tour from Barcelona to Rome, has announced an even more audacious excursion taking riders on an epic 36-day, 3,693 km "Bike Across Europe" tour from Paris, France to Tallinn, Estonia.
The epic adventure crosses eight countries and two continents following in the footsteps of Napoleon's Grande Armée. It begins in Paris with a spin down the Champs-Élysées, followed by aperitifs under the shadow of the Arc de Triomphe before departing for Germany, Luxembourg, Czech Republic, Poland, Lithuania, Latvia, and Estonia—through rolling vineyards, deep forests, medieval villages, and historic cities. The tour is slated for July 2 – August 6, 2022 and starts at $17,208 USD. There is an option to ride 8-day or 15-day stages of the tour starting at $4,006 USD. For more information, download the tour itinerary.

"This is our most epic of epic tours through eight countries as we cycle in the footsteps of Napoleon from Paris to the Russian border," said Dylan Reynolds, Founder and Director of Ride & Seek. "It is our very own Ride Across Europe tour that seeks out the road less traveled as we embrace the cultural and culinary highlights along the way"
Guests will ride across the Champagne region of France into the picturesque, castle-clad green hills of southern Germany. The route then heads through UNESCO-protected medieval villages in Poland to the North Sea. From here, it moves east via the great lakes of Poland and The Baltics. Riders will eventually arrive in Tallinn, Estonia, the country's cultural hub and capital on the Baltic Sea.
"We will visit expert champagne makers eat wonderful regional cuisine, explore UNESCO recognized sites, and ride through beautiful forests, remote territory and bustling cities, all in the footsteps of Napoleon." said Reynolds.
For more information, download the tour itinerary.


For more travel features, visit:
goingplacesnearandfar.wordpress.com
www.huffingtonpost.com/author/karen-rubin
travelwritersmagazine.com/TravelFeaturesSyndicate/
goingplacesfarandnear.tumblr.com/
instagram.com/going_places_far_and_near/
'Like' us on facebook.com/NewsPhotoFeatures
Twitter: @TravelFeatures