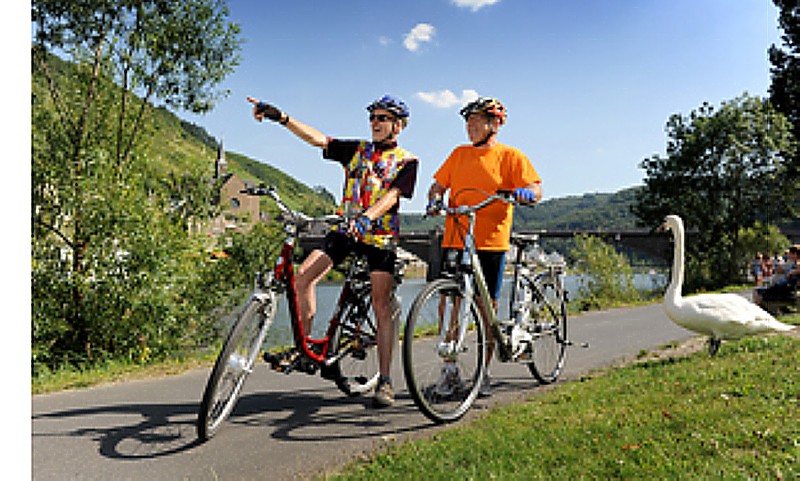 MANCHESTER, UK– Nobody gets left behind on self-guided bicycle vacations in Europe when E-Bikes (electric bicycles) are added to the mix.
Freewheel Holidays (https://www.freewheelholidays.co.uk/), a trailblazer in two-wheel, self-guided European vacations, reports that requests for E-Bike rentals are on the rise. So far in 2018, sign-ups for E-Bike options represent over 12 percent of all cycling holiday bookings being made. They outpace requests for regular bicycles in some countries such as Holland. When itineraries call for cycling 50km a day, E-Bikes are a security blanket for some clients.
This growth is reported worldwide. According to Cycling Industry News, the global electric bike market is projected to increase 60+ percent by 2025, on course to generate a value of $8.5 billion.
What's driving this expansion?
"Our active travelers often defy the common definition of 'senior travelers,'" said Steven Rittey, Freewheel Holidays spokesperson. "They're fitter than ever with surprising energy and stamina. But there seems to be a growing segment that appreciates the fall-back position of an electric bike. Some clients, regardless of age, simply prefer the no-strain comfort of riding E-Bikes. The stigma about them as an easy option or 'cheating' is fading. E-Bikes actually encourage travelers above the age of 50 to continue cycling later into life."
E-Bikes come with a supplemental fee, but the enjoyment outweighs the extra cost, he explained. Using a power-assisted bike helps smooth out inclines or longer days in the saddle. Each E-Bikes features an LCD display, removable batteries for easy charging and assistance up to 25 km/h with a range of around 120 km for each full charge depending on usage.
"These are lightweight aluminum frame bikes with a lithium ion battery-operated motor that when engaged, boosts a rider's natural human power, enabling him/her to pedal with less effort farther and faster. When the route gets steep and a rider is ready for extra power, they just hit a button and select an assist level and continue pedaling. At day's end batteries are removed and charged for tomorrow's ride," explains Rittey
Following is a sampling of Freewheel Holidays' self-guided bicycle vacations offering E-Bikes options. Tour rates include accommodation, breakfasts, sometimes other meals, bike rental with option to upgrade to E-Bikes for an extra charge, itinerary-related fees, luggage transfers, detailed route notes and cycling maps, emergency phone service and more.
Bike & Barge: Venice to Mantova is an eight-day cycle (up to 50km daily) available from now through Oct. 13 that embraces Venice before journeying on a barge hotel on the Po-Bračdolo waterway, along an avian sanctuary in the wetland formed by the Po delta. Guests hop on bicycles to imbibe centuries of life in waterfront villages. A guided tour of Mantova, a vibrant Renaissance town, concludes the tour. A per person double rate is from £909. For details see http://www.freewheelholidays.co.uk/tour/venice-to-mantova-7-nights-boat-amp-bike-vita-pugna
Berlin to Copenhangen over 12 days engages cyclists in both cities and for up to 80km daily on bicycles on canal paths through Germany's lake district to the Baltic Sea between Germany and Denmark. They explore national parks and villages enroute to the half-timbered houses and fairy book gables of Rostock, known for international regattas. Guests ferry from here to the white cliffs of Insel Møn (Isle of Man) and on to Copenhagen. A per person double rate June 4-Aug. 27 is from £1,269.  For details see http://www.freewheelholidays.co.uk/tour/berlin-to-copenhagen-cycling-holiday
Canal Du Midi – France is a seven-day cycle of up to 45km daily on a shaded (thanks to 60,000 trees) route from Toulouse to the Mediterranean. Vineyards, culinary surprises, cathedrals, palaces and Roman ruins offer detours aplenty. The seven-day itinerary begins in Sète, called the "Venice des Languedoc" where the canal flows to the sea. Next up are a wine-growing region near a flight of locks and Carcassonne, one of Europe's best-preserved fortress towns and a UNESCO World Heritage Site. Available through Sept. 22, the per person double rate is from £799. For details see http://www.freewheelholidays.co.uk/tour/canal-du-midi-cycling-holidays
Venice to Florence offers departures through Sept. 29. Over eight days guests follow the rivers Adige and Po, cycling up to 65km daily by fields of melons, sunflowers and vines. On the Delta del Po flamingos nest just steps away from cycle paths. In Cornacchio on the Adriatic ornate palazzi and churches testify to the once-thriving salt industry. Near Faenza (think collectible ceramics), a train jaunt through the Appenines leads to Florence. The per person double rate is from £799 per person. For details see http://www.freewheelholidays.co.uk/tour/siena-chianti-region-and-florence-7-nights
Majorca Coast to Coast is available over eight days through Oct. 31. This itinerary is also suggested as a bicycle vacation for families because accommodations all include swimming pools. The tour starts on the south of the island, with routes of up to 41 km daily along the Mediterranean Sea and inland on flat country roads where bicycles have priority. A flamingo-inhabited lagoon, historic villages and the cobblestoned medieval town of Pollenca augment the pleasures of nightly hosts displaying island charm. The per person double rate is from £919. For details see http://www.freewheelholidays.co.uk/tour/majorca-coast-to-coast-cycling-holiday
To check trip availability, make reservations, or to find out more about Freewheel Holidays' leisure cycling tours call +44 (0) 161 703 5823, email [email protected] or visit www.freewheelholidays.com.
Freewheel Holidays, a division of Sports Tours International, specializes in self-guided, expertly supported European cycling holidays that strike the perfect balance between leisure pedaling and immersive sightseeing. The company offers easy to moderate cycling programs designed with special appeal to European and North American travelers. Guests cycle on their own, with enroute assistance and distinctive accommodations expertly chosen and secured by the company. A portfolio of nearly 50 established European holidays offers riders of all levels a freedom of choice. The company features a range of 4, 5, 6, 7 and 9-night itineraries to 12 European countries including the UK, Austria, France, Holland, Czech Republic, Italy, Malta, Switzerland, Spain, Germany, Sweden and Portugal. The majority of tours are self-guided with the exception of a few fully-guided vacation packages in Croatia, France, Italy and Prague to Vienna.  The company also offers family-focused, coastal, wine lover and solo traveler holidays plus the option of adding E-Bikes.
For more travel features, visit:
goingplacesnearandfar.wordpress.com
www.huffingtonpost.com/author/karen-rubin
travelwritersmagazine.com/TravelFeaturesSyndicate/
goingplacesfarandnear.tumblr.com/
instagram.com/krubin0830/
instagram.com/famtravltr/
'Like' us on facebook.com/NewsPhotoFeatures
Twitter: @TravelFeatures