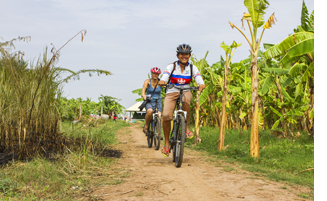 SEATTLE, WA – To celebrate its 30th anniversary, Wildland Adventures is offering a series of trip giveaways, the first being a trip for two to Thailand and Cambodia. The online contest is underway and concludes at 11:59 p.m. Aug. 3, 2017.
Interested travelers may enter the Wildland Adventures Thailand & Cambodia Trip Giveaway by visiting the company website at http://wildtripgiveaway.com/ and completing and submitting the online entry form. Additional entries can be earned by referring friends or by visiting a number of social media sites such as Facebook, YouTube, and Instagram as explained on the contest page.
"Thanks to our intrepid travelers, we continue to expand our global community. What better way to express our gratitude and celebrate 30 years of 'Going Wild' than to give away a trip to Thailand & Cambodia, welcoming two lucky winners into our family of adventure travelers," Kurt and Anne Kutay, Directors
Joining this birthday bash are two highly respected travel partners. The winning duo will be outfitted with a load of travel gear from Eagle Creek and prAna. Included from Eagle Creek are two Expanse Carry-Ons and two Expanse Flatbed 29" luggage pieces. prAna will donate four items of prAna travel clothing to each person.
The Adventure Travel Trade Association (ATTA), of which Wildland Adventures is a charter member, is also helping promote this festivity through their consumer website www.adventure.travel. Adventure.Travel showcases the best adventure companies and stories inspiring travelers to explore the world in a passionate and responsible way.
The Trip Giveaway winner and guest will have time to build their excitement over the Thailand & Cambodia Trip where travel may be scheduled from Aug, 30, 2017 to May 31, 2018. Upon arrival in Bangkok (flights not included), a Wildland Adventures guide will meet them at the airport and help settle them in to the first of several boutique hotels they'll enjoy enroute.
The sights of old and new Bangkok reveal themselves while bicycling through the city and then cruising by boat the Chao Phraya River, virtually the city's lifeline. After absorbing Bangkok's cultural treasures comes a visit by car and long tail boat to the ancient capital of Ayutthaya dating to the 15th century. Moving from ancient history to tropical jungle reveals one of Asia's largest intact monsoon forests, home to several hundred wild elephants, as well as tiger, leopard, Asiatic black bear, sambar deer, gibbon, macaque, and several species of hornbill.
Although the pleasures of Thailand are far from exhausted, this tour next brings guests to theThai-Cambodian border and on to Siem Reap's Angkor Archeological Park, visually, architecturally and artistically breathtaking and one of the most important archaeological sites in Southeast Asia, if not in the world. Stretching over some 400 square kilometers, the park contains the magnificent remains (think Angkor Wat) of the different capitals of the Khmer Empire, from the 9th to the 15th century. In the course of a bike ride along the Siem Reap River are children waving in small villages where cyclists see palm wine and sugar production, basket weaving and rice farming before transferring to the airport for the flight home.
The Kutays three decades ago birthed a new travel concept they call The Wild Style. This means consciously choosing to travel deeper, not farther; to experience a world that craves our understanding and compassion rather than our judgement; to visit communities that seek to welcome us rather than entertain us.
"Today we feel at home in the pivotal global movement to build inter-personal, inter-cultural and environmental bonds among the people and the places we travel," said Kurt Kutay. "Over the course of our 30-year journey, we have held firm to a truth that travel may be the most important path to a growing global community which sustains – rather than degrades — life on earth. We do this not between nations but through conscientious individuals and communities who care about Mother Earth, economic inequities and social injustices."
For additional details on Wildland's 30th Anniversary see https://ww2.wildland.com/30th-anniversary
For more information on these and all of Wildland Adventures' worldwide offerings, availability and reservations call 1-800-345-4453 or email [email protected]. Visit http://www.wildland.com/.
Follow Wildland Adventures
Facebook:     https://www.facebook.com/wildlandadventures
Twitter:          https://twitter.com/WildTravel
YouTube:      https://www.youtube.com/wildtravel
Google Plus: https://plus.google.com/+wildlandadventures
For more travel features, visit:
www.huffingtonpost.com/author/karen-rubin
goingplacesnearandfar.wordpress.com
travelwritersmagazine.com/TravelFeaturesSyndicate/
goingplacesfarandnear.tumblr.com/
instagram.com/krubin0830/
instagram.com/famtravltr/
'Like' us on facebook.com/NewsPhotoFeatures
Twitter: @TravelFeatures